Deadline For County-Funded Removal Of Trees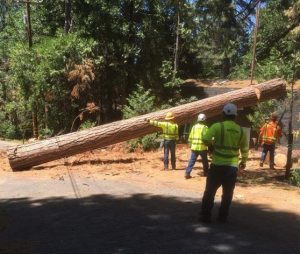 Leisure Pines Project, Tree Felling

View Photos
Tuolumne County, CA — Homeowners who have yet to return their right of entry permits do not have much longer to submit them. Over the past several months the Tuolumne County Office of Emergency Services (OES) has been contacting area property owners about the county-funded Tree Mortality Project, aimed at removing dead and dying trees that pose a risk to county roads and facilities.
County OES Coordinator Tracie Riggs says, "we have sent out over 6,800 Right of Entry (ROE) permits.  Unfortunately, only 48 percent have been returned.  We cannot assess and remove trees without a ROE permit." She also notes, "The scope of a project is determined by the number of properties to assess and the number of trees to remove.  Therefore, additional properties cannot be added once a project has been put out to bid."
This past summer, County officials began sending out Right of Entry letters to homeowners in 16 Tuolumne County neighborhoods that have been hardest hit by a state-wide drought and bark beetle infestation. Tuolumne County has already completed dead tree removal projects in Leisure Pines, along Old Highway 120 east of Groveland and Lyons Bald Mountain, and tree removal projects are currently underway in Mi-Wuk Village and Belleview Elementary School.
In the coming weeks, Tuolumne County will begin marking and removing dead trees along county-maintained roads in the following neighborhoods: Cedar Ridge, Cold Springs, Confidence Road area, Crystal Falls, Ferretti Road North area, Merrell Road area, Middle Camp Road area, Phoenix Lake Road area, Sierra Village, Smith Station Road area, Sugar Pine, Tuolumne Road North area and Twain Harte Drive area.
Tuolumne County will not be able to complete work on your property if a Right of Entry form has not been received by the project deadline.
For more information about Tree Mortality, please visit www.tuolumnecounty.ca.gov. For questions, or if you live in a neighborhood that is part of the Tree Mortality Project and have not received a Right of Entry Form, call the community information hotline at (209) 533-6394. The update on the tree mortality issue statewide "Number Of Dead Trees In State Skyrockets" was posted Friday, Nov. 18 here.
Right of Entries were mailed to these Neighborhoods on the dates below as listed on the Tuolumne OES website:
Tuolumne Road North – Right of Entries mailed  8/1/2016
Merrell Road – Right of Entries mailed  8/4/2016
Confidence Road – Right of Entries mailed out on 8/4/2016
Ponderosa Hills – Right of Entry Letters mailed 8/30/16
Ferretti Road North – Right of Entry mailed 9/1/16
Smith Station Road – Right of Entry mailed 9/1/16
Sugar Pine – Right of Entry mailed 9/1/16
Middle Camp Road – Right of Entry mailed 9/1/16
Cedar Ridge – Right of Entry mailed 9/1/16
Sugar Pine – Right of Entry mailed 9/1/16
Phoenix Lake Road – Right of Entry mailed 9/14/16
Crystal Falls Drive – Right of Entry mailed 9/14/16
Twain Harte Drive – Right of Entry mailed 9/22/16
Sierra Village – Right of Entry mailed 9/22/16
Cold Springs – Right of Entry mailed 9/22/16