Suspect Arrested In 2013 West Point Murder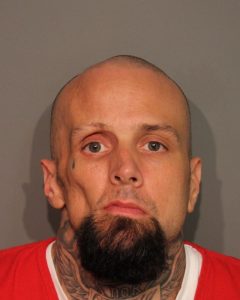 Gary McMahan

View Photos
San Andreas, CA – Three years after a possible drug deal gone bad that resulted in one murder and a woman shot in the head, a long time person of interest in the case has been arrested.
Transported from a prison in Tracy, 35-year-old Gary F. McMahan was booked into the Calaveras County Jail on Thursday. Along with first degree murder, he also faces charges of assault with a firearm on a person, and possession of a firearm by a felon/addict.
The charges stem from a double shooting at a house in the 200 block of Stanley Road in West Point on July 9, 2013. 45-year-old Norman Curtis Gresham III was killed and 37 year-old Jessica Susan Elder survived a gunshot wound to her head. One day after the crime, as reported here, Calaveras County Sheriff's Detective called McMahan a person of interest who was wanted for questioning.
A week later he was arrested after a high-speed chase from Lodi to Sacramento. At that time, sheriff's official stated that McMahan was still considered a person of interest in the murder but not a suspect. Until now, no one was charged in the deadly shooting. Sheriff's officials did not have any further comment on McMahan's arrest or what evidence finally brought about the charges.