Columbia Noted In FBI Bank Robbery Wanted Posting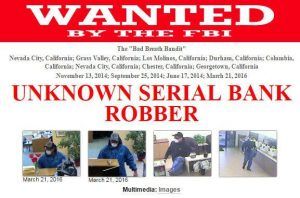 FBI Wante Poster

View Photos
Columbia, CA — The FBI notice is for the "Bad Breath Bandit" wanted for a string of seven bank robberies in northern California and warns that the suspect should be considered armed and dangerous.
Underneath that nickname given to the robber, as can be seen in the upper left-hand image box, is a list of the communities where banks were hit by the robber including Columbia. As previously reported on February 5th of 2015, the Umpqua Bank in Columbia State Park was robbed by a white man brandishing a black handgun. He demanded cash and then took off on foot. The suspect was described as wearing a black ski mask, around 6'0 ft. tall, slender build with a bad complexion. A day later, the FBI took over the case from the Tuolumne County Sheriff's Department and there has been no arrest.
The wanted poster titled "Unknown Serial Bank Robber" also shows several pictures of the suspect during some of the other heists and details those armed robberies but gives no further information on the Columbia theft. There are several similarities to the Umpqua Bank robbery suspect including his description, the use of a black handgun, and that he left on foot. However, instead of a ski mask the suspect wore a dust or surgical mask in the other holdups. The posting also calls on the public's help to identify the bandit giving the FBI's Sacramento Field Office as a contact.
The FBI lists the other bank robberies were in Nevada City, Grass Valley, Chester, Georgetown, Los Molinos and Durham. We contacted the Sacramento FBI Office regarding the poster but have not received a response.
Click here to see the entire FBI posting.