Columbia Bank Robbery At Umpqua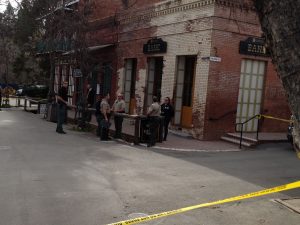 Umpqua Robbery In Columbia

View Photos
Columbia, CA – Just before noon the Tuolumne County Sheriff's Office received notification of a robbery alarm at the Umpqua Bank in Columbia State Park.  A white male adult reportedly entered the bank, brandished a black handgun, and demanded cash.  The teller handled over an undisclosed amount of money.  The suspect fled the bank on foot, and was last seen near Fulton Street and Main Street. The Sheriff's Office says he was wearing a black ski mask, around 6'0 ft. tall, slender build with a bad complexion, wearing a green, blue and white checkered shirt, black pants.
 Tuolumne County Sheriff's Office Deputies  set up a perimeter and have been searching the area for the suspect. That said, traffic is still moving through the Columbia area freely, and the park is open to visitors.
 Columbia Elementary School was placed on "lockdown"  for a short time while a search of the area was conducted.  The "lockdown" was lifted about 1:15 P.M.
 The Sheriff's Office says "This is a fluid, on going investigation and no other information is available at this time."