FBI In On Bank Robbery Investigation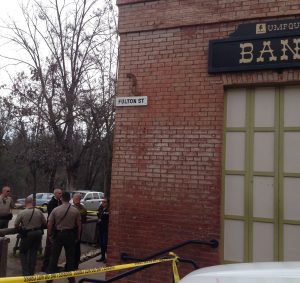 Umpqua Bank Robbery, Columbia

View Photos
Columbia, CA – Tuolumne County sheriff's officials say that detectives actively investigating the Umpqua Bank robbery are being assisted by the FBI.
"We are hoping to get out some still pictures of the suspect during the bank robbery at some point in the future," says sheriff's spokesperson Sergeant Scott Johnson.
As previously reported, just before noon the Tuolumne County Sheriff's Office received notification of a robbery alarm at the Umpqua Bank in Columbia State Park. A white male adult reportedly entered the bank, brandished a black handgun, and demanded cash. The teller handled over an undisclosed amount of money. The suspect fled the bank on foot, and was last seen near Fulton Street and Main Street. The Sheriff's Office says he was wearing a black ski mask, around 6'0 ft. tall, with a slender build and bad complexion, wearing a green, blue and white checkered shirt, and black pants.
Following the robbery, Johnson says, "We did what is called a 'field show up' where we bring the witnesses that we detained, and any of the people we detained were identified as not involved in the robbery."
Tuolumne County Sheriff's Office Deputies yesterday set up a perimeter, continue to search the area for the suspect and are conducting a "fluid, ongoing" investigation.   Johnson adds, "At this time, we're following up on all leads, so if anybody saw a suspicious vehicle in the area, or saw this person, we encourage them to call the Sheriff's Office at 533-5815. Because we don't have any definitive information at this time [as to] whether he left in a vehicle or fled on foot, any information that we obtain would be helpful."