TCSO Still Working To Identify Human Remains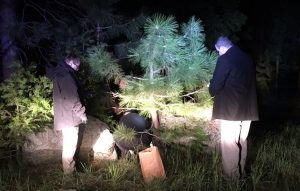 Human Remains Investigation in Pinecrest

View Photos
Pinecrest, CA — The Tuolumne County Sheriff's Office has not yet identified the human remains that were located late last week off Highway 108.
We reported previously that a resident called law enforcement this past Thursday evening after locating the human remains in the community of Pinecrest, in an area near the intersection of Highway 108 and Old Strawberry Road. The Sheriff's Office reports this morning that detectives are still working on the ID process and reviewing missing person's cases. It could potentially take weeks to identify the individual.
We'll pass along more information when it becomes available.
News story "Remains Found Near Strawberry ID'd As Missing Local Woman" is here.