Sheriff's Office Investigating Human Remains Found Near Highway 108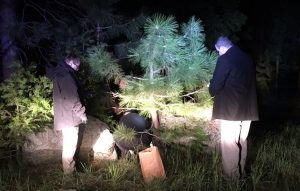 Human Remains Investigation in Pinecrest

View Photos
Pinecrest, CA — Little information is currently available, but the Tuolumne County Sheriff's Office is investigating human remains that were found last night in the community of Pinecrest.
The Sheriff's Office reports that a resident called in an reported finding the remains in an area near Highway 108 and Old Strawberry Road. The remains have been collected, but detectives have not yet been able to identify the individual. A media release from the Sheriff's Office reads, "We have no further information to release at this time. This is a sensitive and ongoing investigation and more details will be released at a later time when confirmed."
The call was placed to the Sheriff's Office, reporting the human remains, at 5:55pm.
News story "Remains Found Near Strawberry ID'd As Missing Local Woman" is here.