Tuolumne County Seeking Help From Caltrans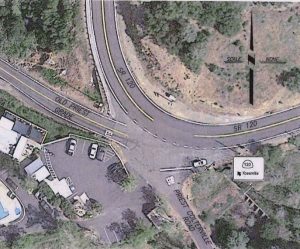 Intersection Of New Priest Grade and Old Priest Grade

View Photos
Sonora, CA — The Tuolumne County Supervisors voted unanimously to send a letter to Caltrans requesting more signs to help alleviate confusion for travelers heading to and from Yosemite.
We reported last week that Tuolumne County transportation leaders have grown increasingly concerned by the high number of tourists that travel up New Priest Grade and then accidentally turn down Old Priest Grade, effectively making a circle. It was noted at today's Board of Supervisors meeting that much of the confusion stems from GPS systems that mistakenly indicate that this is the correct path of travel.
"I watch this all day long," said Steve Anker, proprietor of the Priest Station Café. He was at the Supervisors meeting urging the county to take action. He was notably concerned about oversized vehicles going on Old Priest Grade, and the potential for serious accidents, which could in-turn cause fires.
District Four Supervisor John Gray, who represents the south county, stated, "You think people would be smart enough to know that Yosemite is up the hill, and not down the hill, but they don't seem to be. This will not 100% solve it, but it will go a long way towards taking care of some of these safety concerns."
The Board's letter to Caltrans says the county is willing to purchase the signs, totaling around $2,100. The county is requesting two additional signs near the top of the grade and one near the bottom.