Which Way To Yosemite National Park?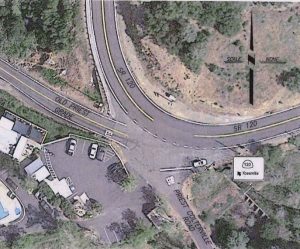 Intersection Of New Priest Grade and Old Priest Grade

View Photos
Sonora, CA — Tuolumne County transportation leaders are concerned about the high number of people that drive up New Priest Grade, become confused, and head down Old Priest Grade.
It also happens periodically with travelers heading down the grade, as they turn around and make a circle. Most motorists that make the mistake are unfamiliar with the area and are heading to or from Yosemite National Park. A Caltrans regional traffic safety branch manager investigated the issue and is making two recommendations. He proposes that an additional sign be installed heading eastbound towards the intersection (top of the grade), pointing out that New Priest Grade goes to Groveland and Yosemite.  He also is recommending that a sign heading westbound towards the intersection be replaced with one that points out that New Priest Grade goes towards Sonora and Oakdale.
However, the proposal does not address the issue of people that are already on New or Old Priest grades and making the circle. It was recently discussed by the Tuolumne County Transportation Council and it will be on the agenda at next week's Board of Supervisors meeting. The supervisors are scheduled to vote on requesting that Caltrans install three more signs, with the county agreeing to foot the bill. The cost of the signs is estimated to be $2,100. One would be at the bottom of the grade pointing out that New Priest Grade heads to Yosemite. Two would also be added at the top of the grade with one pointing residents to "San Francisco/Modesto" and the other towards Yosemite.
Tuesday's Supervisors meeting starts at 9am in the board meeting room.