Update: Governor Signs Minimum Wage Hike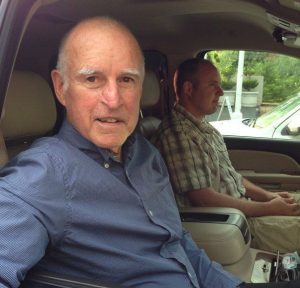 Governor Brown at the Mother Lode Fair: Photo taken by: Tracey Petersen

View Photos
With Governor Jerry Brown's endorsement, the state's minimum wage will go up to $15 by 2022, making it the nation's highest. Republicans and business groups claim Brown has, in essence, signed away thousands of jobs in the state. Brown remarks,  "This is about economic justice, it's about people. This is an important day, it's not the end of the struggle but it's a very important step forward."
Brown was Wednesday's KVML "Newsmaker of the Day".
The bill includes a provision allowing the Governor to defer the yearly increases for a year by September 1, if there is a forecasted budget deficit or poor economic condition in the state.
As reported last week, the State Chamber of Commerce put the bill on its "Jobs Killer" list. The bill came out of an agreement reached by the labor unions and the Governor last month.
Original post Saturday, April 3 at 7 a.m.: Sacramento, CA — Next week the Governor plans to sign the new minimum wage increase into law, prompting backers to eye other possible states to make the switch.
As reported this week, Governor Jerry Brown plans to sign into law raising the minimum wage to $15 an hour by 2022 on Monday in Los Angeles. Activists who spearheaded the push for an increase are now taking aim at other Democratic lead states including Illinois, Massachusetts, Michigan, New Jersey, Oregon, Rhode Island and Washington.
New York is also set to approve a wage hike making the two states among the nation's most expensive places to live. California and New York are home to almost 1 in 5 U.S. citizens. However, as far as wages go, to earn enough for a normal standard of living New Yorkers need to earn 40 cents more than Californians every hour, as child care cost twice as much in the Big Apple. Single Californians also pay about $600 less in state taxes every year but food, housing and transportation total about the same in both states.
The "Newsmaker of the Day" is heard every weekday morning on AM 1450 KVML at 6:45, 7:45 and 8:45 AM.