Drivers Taking Advantage Of Traffic Ticket Amnesty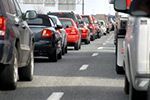 Traffic

View Photos
Sacramento, CA — State officials report tens of thousands received reductions on costly fines and millions are still eligible.
As previously reported last year an amnesty program backed by Governor Jerry Brown, was enacted as a result of exorbitant state add-on fees and assessments for late payment of traffic penalties, which led to millions of driver's license suspensions.  State officials now tout that the program has slashed traffic fines and court fees for more than 58,000 drivers in the first three months of an 18-month program that started in October.  There is one requirement to be eligible for the discounts that can range from a 50 to 80 percent markdown, motorist ticket payments must have been originally due before Jan. 1, 2013.
Of note, as also previously reported, the state attorney general's office has issued an alert to the public, warning of complaints about debt collectors misleading people about paying the fines.
Motorists still have time to capitalize on the program as state officials note that at least 3.3 million traffic and infraction tickets are eligible for the amnesty program.