Update: Another Push Against Governor's Prison Reform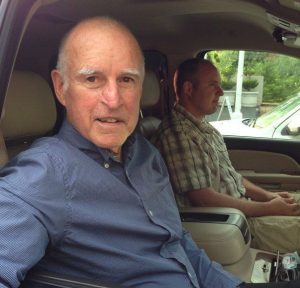 Governor Brown at the Mother Lode Fair: Photo taken by: Tracey Petersen

View Photos
Update at 8 a.m.: California's district attorneys get help from a well known advocate for crime victims in their campaign against Governor Jerry Brown's initiative to reduce the state's prison population. Marc Klaas, whose daughter Polly was kidnapped and murdered in 1993, claims Brown's plan would undermine laws designed to protect the rights of crime victims. The Governor wants voters to increase inmate sentencing credits allowing earlier parole for non-violent felons. As reported below the issue is now in the hands of the state Supreme Court.
Update Feb. 26 at 6:15 p.m.:  The California District Attorneys' Association rebukes Governor Jerry Brown calling for an immediate opinion on his prison population initiative by the state supreme court for fear a delay will drop it from the November ballot. The group remarks that the Governor has no one to blame but himself for sparking a fight over a proposed ballot measure, which has reached the state's highest court. Chief executive Mark Zahner points the finger at Brown for creating the emergency by improperly amending an existing initiative last month.
Original Post at 4:36 p.m.: Sacramento, CA — Governor Jerry Brown is objecting to a scheduling problem with the California Supreme Court, which could push a decision regarding his prison population initiative to sometime next week.
As previously reported, yesterday Brown filed an emergency stay request with the high court following a lower court judge's ruling that could stall his ballot proposal to increase sentencing credits for adult inmates and allow earlier parole for non-violent felons until 2018. In a court filing Friday, Brown's attorney claims that even a four-day delay will make it nearly impossible to gather enough signatures to place it on the November ballot.
The court has scheduled responses from Attorney General Kamala Harris, who must issue certain documents before signatures can be collected, and from district attorneys who contend that Brown improperly amended an existing juvenile justice initiative.
Brown's rebuttal is due late Tuesday.