First Weekend Of February Events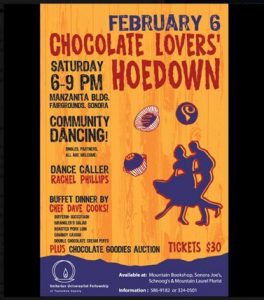 Chocolate Lovers' Hoedown

View Photos
Two fund raiser dinners are featured in our events calendar this weekend, plus several other community and theater events.
The Orient Express is a family friendly run through the rolling hills this Saturday Feb. 6. The event benefits Tuolumne County Special Athletes. Registration details can be found in the event listing here.
This Saturday is also the Tuolumne County Master Gardeners, Open Garden Day. Talks will be on fruit tree pruning, bare root tree planting and soil preparation for spring vegetable planting. The event is held at Demonstration Garden off Barretta Street in Sonora, (Cassina High School Campus.) Contact details are in the event listing here.
Saturday afternoon is the second and last "Help rebuild Butte Fire Area Tool and plant collection" event at the Heaven for Kid Picnic Area by the Tuolumne County Library. Donate tools, generators and plants. For more details view the event listing.
High Country Sports Arena hosts it's teen roller skating night tonight, Friday Feb. 5. This Saturday, the open skate is 3:30 to 5:30 as usual but as the first Saturday of the month the evening skate is adult roller disco night. Costumes that are encouraged the event listing is here.
Don't miss the Chocolate Lover's Hoedown at the Mother Lode Fairgrounds this Saturday night. The dinner is by Chef Dave Ingram with a community dance with Rachel Phillips calling. There will be a chocolate auction and ticket information is here.
Over in Copperopolis Saturday night is the Lake Tulloch/Copperopolis Lions Club Lobster Dinner. Ticket information is here.
For movie times at Regal Sonora Stadium 10 visit our entertainment section here. Dates and information about local performances and plays are in the entertainment section here as well, Stage 3 Theater is showing Talk Radio starting tonight details are listed here.
Sunday, long time Mother Lode resident Kim Pippa Tonnesen will speak at the Angel's Camp Museum about the life of Bret Hart. The lecture is called "The Other Author: Bret Harte" and the event details are here.
Next Week: Click on a date for more events coming up

S
M
T
W
T
F
S
7
8
9
10
11
12
13