Butte Fire Recovery Update And More On Flood Control Measures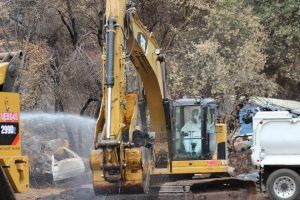 Butte Fire Recovery Debris Removal

View Photos
San Andreas, CA — Calaveras County officials report that as of this week 20 Butte Fire debris removal crews are actively at work within the footprint.
That is six more crews on the job since last week's update. Efforts are now additionally focusing in East Murray Creek, Avenue A, Whiskey Slide and Hawver as clean up work continues in western and central Jesus Maria, Old Gulch, Wendell, and Mokelumne Hill areas. The crews have expanded to a seven-day per week schedule so residents and travelers through the burn should be on the alert for heavy equipment and associated traffic risks daily, including Sundays.
According to county staff, of the 755 sites currently registered for the debris removal, 683 have had household hazardous wastes hauled away; 55 are listed as having completed burn debris removal operations; 13 have received approvals on their soil sample results.
In addition to the two sand bag stations that opened on Monday in Jenny Lind and Mountain Ranch, as previously reported, Calaveras County residents may now access a third location at the county's San Andreas Road Yard, located at 891 Mountain Ranch Road by the government center. Proof of residency is required to get up to 20 filled bags for structure protection flood control measures. Those needing more than the 20-bag allotment are advised to bring a photo of their structure.
Residents impacted by the Butte Fire who have not yet registered with FEMA now have less than two weeks — until November 23 — to do so in order to be eligible for federal disaster assistance. For more details, click here.