Cheers To New Businesses Downtown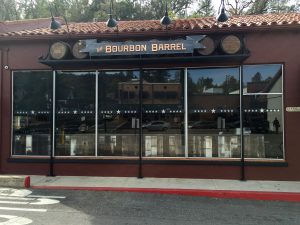 Bourbon Barrel and Stage 3

View Photos
Sonora, CA — A bourbon-centric gathering spot in downtown Sonora is among the new businesses abuzz this weekend.
Celebrating its official grand opening Friday night, the Bourbon Barrel has been a project that has spent months in the making, according to Larry Cope, CEO and director of the Tuolumne County Economic Development Authority.
"We have been working with Doug Kennedy to open his location for awhile now," Cope shares happily. "He's done a great job in laying out the Bourbon Barrel and I think it will be a great addition to downtown…a nice, upper-class type location…adjacent to Stage 3 Theatre, so it provides an opportunity to kind of grow an entertainment district in downtown." He opines, "I think it goes to show that there are wise people who are looking at downtown — and looking forward to the future vision of how downtown can be a hub of entertainment…food…and where people can come together and meet. "
Kennedy's new establishment, located 208 S. Green St., boasts 122 different bourbons, along with a choice selection of local wines, craft beers and spirits. The food theme is described as "a taste of the South with a hint of California mountain cuisine." Plans are to add outdoor dining, live music and other entertainment in the coming months. Posted hours are daily from 3 p.m. until close.
In Other Business Buzz
In other culinary notes, Fiona's, a café and burger restaurant with a gourmet bent and an already popular Sunday brunch menu, opened in August at 110 S. Washington St., next to the park. Known as the original location of the Diamondback Grill, the spot more recently housed Rosie's Hot Dogs and JDoggs. Hours of operation are daily from 11 a.m. until 8 p.m.
As of Oct. 31, Christopher's Ristorante at Sonora Inn, a downtown fine dining mainstay, will be closing its doors so that partners Christopher, Heather and George Segarini may focus their endeavors on their fine dining, tavern and catering operations at Columbia's historic City Hotel and What Cheer Saloon, where, as previously reported, they set up shop in May. Current hours there are Wednesday through Sunday for lunch from 11 a.m. until 2 p.m. Beginning Nov. 4, dinner will also be served on those days from 5 to 9 p.m. The trio's holiday plans include serving Thanksgiving Day dinner and co-hosting Columbia's already well-established annual Victorian Christmas Feast.
In other eatery action, Cope notes the pending November opening of Dickey's Barbecue Pit restaurant in the former Radio Shack space at 1197 Sanguinetti Road. He also shares that he is seeing interest from restaurateurs in the Sonora Inn, and Europa restaurant locations. A possible downtown retailer and another potential business opening at the former Denny's on Mono Way may also be in the wings, Cope confides.
Construction is definitely abuzz on Sonora Regional Medical Center's (SRMC) new $36 million 64,000 square-foot cancer center, set to open in late 2016 or early 2017 at the intersection of Mono Way and Greenley roads. On Monday morning at 7 a.m., SRMC's new, larger outpatient lab location will open on the second floor of the professional center adjacent to the hospital. The street address for the new facility is 900 Greenley Road, Suite 250.
Work crews are also active on Restano Way, next to Subway, as Oak Valley Bank appears to be on-track for its December opening. As previously reported, the company signed a merger agreement to acquire Mother Lode Bank. Bank officials expect the deal to close by the end of the fourth quarter.
Update: The December news story about the Oak Valley Community Branch opening in Sonora is here.