Oak Valley Bancorp Acquiring Mother Lode Bank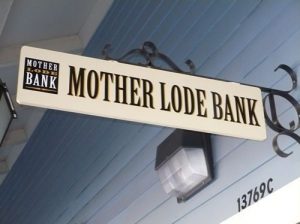 Mother Lode Bank Sign

View Photos
Sonora, CA – Oak Valley Bancorp has signed an agreement to acquire Mother Lode Bank.
Oak Valley Bancorp is the bank holding company for Oak Valley Community Bank and Eastern Sierra Community Bank. The merger agreement was approved unanimously by the board of directors from each company.
Chris Courtney, Oak Valley Community Bank President and CEO, says in a statement, "We are committed to serving Sonora and the surrounding foothill communities and we intend to continue to serve Mother Lode's customers from Oak Valley's branch network, including our new Sonora branch which is scheduled to open in December of 2015."
The deal is expected to close in the fourth quarter of this year, and it is still subject to regulatory approvals. Each member of the Mother Lode Bank Board of Directors agreed to vote all of his shares of common stock in favor of the transaction, and recommended that all other shareholders of Mother Lode Bank vote in favor of the transaction.
The terms of the merger call for Oak Valley Community Bank to acquire all of the outstanding common stock of Mother Lode Bank in exchange for $7.3 million in cash consideration, or $1.65 per share of common stock.
Pete Kerns, Chairman of the Board for Mother Lode Bank, says in a statement, "Our annual strategic planning process included a review of the current banking environment and opportunities for enhancement of shareholder value, which resulted in consideration of a potential business combination with a partner that has demonstrated a commitment to delivering premier customer service and a proven track record of community support. Oak Valley certainly fit the bill on both counts."
Upon completion of the sale, Oak Valley Bancorp notes that H. Randolph Holder, a current director of Mother Lode Bank, will join the Board of Directors for Oak Valley Bancorp and Oak Valley Community Bank.
Mother Lode Bank first opened its main office in July of 2004 and added a branch in the Junction Shopping Center in November of 2007. Oak Valley Bancorp operates 15 branch offices throughout the Central Valley and Sierra Nevada region.