New Oak Valley Community Bank Branch Opening Soon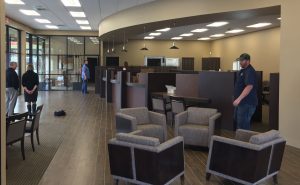 New Oak Valley Community Bank Branch

View Photos
Sonora, CA — A soft opening is scheduled for early next week for the new Oak Valley Community Bank branch in downtown Sonora.
Currently the furniture is being placed in the freshly constructed 4,000 sq. ft. building at 85 Mono Way. The exterior signage will be put up on Friday, and the plan is for a soft opening this coming Tuesday, December 15.
Lyn Wilson, Branch Manager, says, "It's coming together fast. All of the hopes and dreams of this facility being here, and serving the Sonora area, it is actually happening."
Initially, Wilson says there will be at least five employees at the new branch. A grand opening for the location will likely come after the first of the year, as Oak Valley Community Bank is in the process of adding Mother Lode Bank customers to its database, following its recent acquisition. Mother Lode Bank's customers have been notified that its offices on Stockton Road and in the Junction Shopping Center will be closing on January 29th.
Wendy Burth, Oak Valley Community Bank's Executive Vice President of Retail Banking, was in Sonora this week, and added, "With the opportunity of Mother Lode Bank coming over, there are a lot of moving parts, but we are excited to get it all working together."
Oak Valley Community Bank is based in Oakdale, and it has several branches spread throughout the foothills and Central Valley, including an existing location in East Sonora.