Former Andy's Building Walls Come Tumbling Down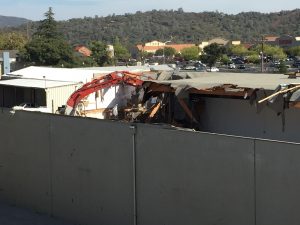 Demolition of the former Andy's Hardware in Sonora
Sonora, CA – The sounds of breaking glass and splitting wood filled the air today at the site of the former Andy's Home Center on Mono Way in Sonora.
Demolition crews used an excavator to clear away debris and break through the roof and inner walls to make way for the Sonora Regional Medical Center's (SRMC) Cancer Center.  Work came to a grinding halt for about an hour however, after a telephone line was hit, forcing repairs.
As reported in August, Quiring General, LLC and California Gold Development  Corporation, the contractors in charge of the project, began gutting the building, but not before allowing local charities to salvage items and the Sonora Fire Department to use the facility for a training exercise. In July, the hospital held a groundbreaking ceremony on the site for its $36-million Cancer Center project. The facilities' completion date is currently slated for late 2016 or early 2017. Additionally, $10-million of that funding will go towards upgrades to the existing Emergency Room at the hospital.
Adventist Health, which oversees 16 hospitals, including SRMC, has allocated $29-million to the project; $4-million will come from SRMC's reserve funds, and $3-million from a local capital campaign.
Crews will be back on the site tomorrow to bring down the remainder of the structure.