The Wrecking Ball To Help Others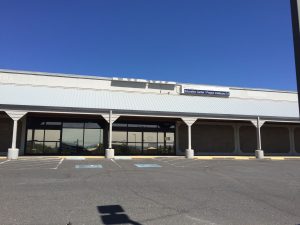 Former Andy's Home Center

View Photos
Sonora, CA – Local non-profits and firefights will benefit from the demolition of the Andy's Home Center building to make way for Sonora Regional Medical Centers' (SRMC) new Pavilion and Cancer Center.
Quiring General, LLC and California Gold Development  Corporation, which is in charge of the project, will have its crews tear down the building on the corner of Mono Way and Greenley Road at the end of the month, but not before salvaging some items.  Hospital spokesperson Gail Witzlsteiner shares, "This week we have been working on taking out the fixtures and anything that really is usable to share with other organizations that might be able to benefit from those items." Some of those items include lighting and air-conditioning units.
PG&E has already disconnected power to the building. Before the structure comes down, it will also assist in training next week of firefighters with the Sonora Fire Department. Medical Center Vice President of Operations Michelle Fuentes says, "We are happy to provide space for the local fire department to practice.  It Isn't very often they have the opportunity to break down doors and destroy walls!"  Fuentes cautions the public that there will be plenty of firefighters and equipment in the area.
As reported previously, last month SRMC held its groundbreaking for the $36-million project. The funding breakdown consists of $29-million from Adventist Health, $4-million from the hospital's reserve funds and $3-million from a local capital fundraising campaign. Currently, the latter has raised $1.8-million. "We are feeling very lucky with the support that we've had," says Witzlsteiner, who adds, "Right now, we are receiving some very nice gifts from our employees as we're wrapping up our employee campaign here at the hospital."  With $1.2-million still needed to complete the project, it was noted that community members interested in supporting the local Capital Campaign can contact the Foundation Office at 536-5029.
Construction of the new Pavilion and Cancer Center is expected to be complete in late 2016 or early 2017.