Update: Butte Fire Acreage Triples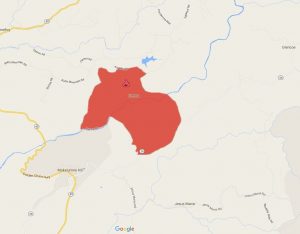 Butte Fire Incident Map Cal Fire Google-Maps
Update: 6:45 p.m.: Cal Fire has just released the latest numbers for the Butte Fire, which has more than tripled in size and is at 14,700 acres. The containment has dropped to 10 percent. According to Cal Fire spokesperson Nancy Longmore, the Butte Fire is continuing to present significant challenges for firefighters. "What we're seeing out the window is pretty daunting. Early this morning, the [Cal Fire] website said that the fire is spreading in all directions and that is absolutely true," she states. "The main thing that is spreading this fire is the extremely dry conditions, not just the grass, but the brush and the trees are as dry as dry can be after four years of drought – and that, coupled with the steep terrain and the wind — is just allowing this fire to go nuts, similar to what the Rim Fire was doing two years, ago."
Longmore advises residents in affected areas to please be wise and proactive in their evacuation planning. "We are asking for people to not wait for somebody to come and notify them that they need to leave. We're asking for people to take responsibility for their own safety and do the evacuation preparation, get their stuff ready to go…just keep their eye on the situation, and if they feel threatened or unsafe, to just go ahead and leave — because the fewer people that we have in the fire area, the fewer chances there are of panic-driven vehicle accidents or heart attacks or those kinds of things."
Calaveras County Animal Services in San Andreas (901 Jeff Tuttle Road) near the Law and Justice Center is asking for volunteers to work tonight. Don't call first — they are swamped. If you can temporarily house chickens, ducks or rabbits, please head to the office and volunteer.
Update: 5:30 p.m.:  Cal Fire reports although there has not been an update on the acreage of containment since this morning. Cal Fire Nancy Longmore expects the update to on acreage to grow significantly.  The last reported resources on the fire include: 57 engines, 15 fire crews, six air tankers, three helicopters, 10 do zers and eight water tenders are working the fire.
Update: 4:50 p.m.: Additional Mandatory Evacuation Orders have been issued in Calaveras County for Highway 26 from Highway 49 to Railroad Flat to include all sides of the street; Jesus Maria from Hwy 26 to Railroad Flat to include all sides of the streets, North of Jesus Maria and South to Doster Road/West Murray Creek Road and East of Hawver Road.
Additional county road closures are as follows: SR 26 and Hwy 49 at Mokelumne Hill East to Ridge Road; SR 26 and Ponderosa Road; SR 26 and Jesus Maria; SR 26 at Hwy 49; and SR 26 at Lower Dorray Road.
In Amador County, Mandatory Evacuation Orders now include Canyon View, Fig Tree Lane and Ponderosa Way; The Town of Pine Grove, to include all areas South of Highway 88 at Ranch Road, and East of West Clinton and East Clinton Road.
Latest road closures are Clinton Road at Butte Mountain Road (both ends); the Butte Mountain Road cutoff at Clinton Road; Amador Lane at Clinton Road; Electra at SR 49; Ponderosa Road at Tabeaud; access to Lake Tabeaud is closed; Hwy 88 at W. Clinton Road; Hwy 88 at Irish Town Road; Hwy 88 at Tabeaud Road; Hwy 88 at Aqueduct Circle; and Highway 88 at Mount Zion
Update at 3:15 pm:  There is a cancellation as a result of the heavy smoke in Tuolumne County. Sonora High School soccer games are postponed today due to poor air quality, but the teams will be practicing indoors after school.
Update at 2:40pm: CAL Fire reports that there are additional evacuations being called for due to the Butte Fire. Mandatory evacuations are now needed for an area south of Highway 88 in Amador County. Areas impacted include the vicinity of W. Clinton Road, Ponderosa Way, E. Clinton Road and Ranch Road. The fire has been growing in size this afternoon. The latest official size estimate from CAL Fire is still 4,000 acres and 20% contained. It is not immediately clear when an updated size estimate will be made available from officials.
This afternoon the Calaveras County Supervisors declared a local state of emergency due to the Butte Fire. Click here to find more information.
Update at 9:55am: CAL Fire reports that six homes have been destroyed by the Butte Fire burning in Calaveras and Amador Counties.
In Calaveras County, an "evacuation order" is in place for the Boston Yale Subdivision, from East Highway 26 to Ponderosa Way. The order also includes the areas of Easy Bird Road, Sierra Lane, Thadeous Court and Center Street. In addition, an "evacuation warning" has been issued for the entire community of Mokelumne Hill, so residents should be prepared to leave in the event that fire conditions become more severe. Evacuations centers are now set up at the Calaveras County Fairgrounds and at the San Andreas Town Hall. It is noted that the Calaveras County fairgrounds is also housing large animals and pets.
In Amador County, an "evacuation order" has been issued for Canyon View Road, Fig Tree Lane and Ponderosa Way. The American Red Cross has set up an evacuation center at the Jackson Rancheria hotel. Much of Highway 26, near the fire area, remains closed.
Update at 9am: PG&E reports that around 14,000 customers are still without electricity due to the Butte Fire burning in Amador and Calaveras Counties. The outages are spread out in Calaveras County, impacting communities like Mokelumne Hill, West Point and Railroad Flat. In Amador County, the outages are near the communities of Jackson, Pine Grove and Electra. There is no estimated restoration time.
Update at 7am: The Butte Fire burning in the counties of Amador and Calaveras has grown to 4,000 acres and it is now 20% contained, according to CAL Fire. Several homes in Mokelumne Hill, notably near Boston Yale Ranch, have been evacuated.
Original Story posted at 6am: A large wildfire that ignited near Jackson, and crossed into Calaveras County, has now burned 2,600 acres and it is 30% contained. The Butte Fire is burning in several directions, including along the Mokelumne River drainage, as well as south of Highway 26 toward the Calaveras River Drainage.
Evacuation centers are open at the Mokelumne Hill Elementary School and the San Andreas town hall. Power went out to several thousand homes yesterday, and many are still without electricity. Because of the power outages, West Point Elementary, Railroad Flat Elementary and Mokelumne Hill Elementary Schools are closed today. In addition, the Calaveras Unified School District is not running bus routes 14, 16 and 17. A larger CAL Fire Type 1 incident management team has been called in to assist the fight.
CAL Fire reports that you want to avoid the area. In Amador County, Highway 49 is closed at Electra Road and in Calaveras County, Highway 26 is closed at the Highway 49 intersection in Mokelumne Hill.
Some structures have been destroyed as a result of the fire, but it is not immediately clear how many. CAL Fire is planning to release additional information later this morning.  The fire started at around 2:25pm on Wednesday.
A special thanks to community news partners Darin McKinney, Michell Gonzalez, Jeselyn Bowers, Roxanne Mc, Joseph Elfelt, Ranay Judd, Kate Shanley, and Karen Jensen, for sending in images. Media can be e-mailed to news@clarkebroadcasting.com
Click here for day three fire coverage.
Click here to view a recap of day one of the fire.