Update: Butte Fire Acreage Grows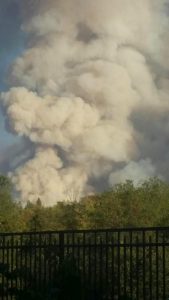 Butte Fire

View Photos
Update 9:05p.m.: Cal Fire reports the Butte Fire is now 1,200 acres and remains 30% contained. Highway 26 remains closed from Highway 49 to Winton Road. Cal Fire Lisa Williams says, "There are evacuations in the Boston Yale Ranch area and the evacuation center is at the Mokelumne Hill Elementary School."
Update 8:33 p.m.: PG&E currently reports a large amount of power outages, due to the Butte Fire in both Amador and Calaveras counties. A total of nearly 14,ooo are in the dark. Presently, there are 5,725 customers without power in the Jackson area; 4,541 in the West Point, Wilseyville and Railroad Flats areas; 3,644 in Mokelumne Hill. Due to the fire, PG&E is reporting that crews are not currently able to get to the outage repair sites so they are not able to provide any estimated times for repair.
Update 8:04 p.m.: Cal Fire now indicates that evacuations are being ordered along Highway 26 between Highway 49 and Lower Dorray Road.
Update 7:34 p.m.: Cal Fire now confirms the Butte Fire that is now burning in the Mokelumne River drainage, has jumped the river into Calaveras County  — and is one and the same as the vegetation fire earlier reported in Mokelumne Hill.
The flames are reportedly now two to three miles east of Mokelumne Hill, located between that town and Glencoe. Cal Fire additionally reports that fire crews are battling very steep terrain and hot temperatures. Evacuations are being ordered through the Calaveras County Sheriff's Department along Highway 26, from Happy Valley to Lower Dorray Road. Cal Fire spokesperson Nancy Longmore advises those living in the area to keep a close eye out and "consider evacuating sooner rather than later."
Update: 6:56 p.m. — With regard to the Butte Fire, now burning southeast of Jackson, Butte Mountain Road is now closed and evacuations are in effect for Amador Lane, and the end of Electra and Charamuga Ranch roads, according to Cal Fire. No word yet on whether spotting from the fire is related to a vegetation fire reported in the Mokelumne Hill area where firefighters have been called.
Original Post 6:48 p.m.: Calaveras County, CA — Firefighters are heading to a vegetation fire on Highway 26 and Ponderosa Way in Mokelumne Hill.
There is no word on size or rate of spread or whether any homes are threatened.
Cal Fire spokesperson Lisa Williams reports that fire officials are trying to determine whether the blaze may have been sparked by the 160-acre Butte Fire, now burning in Amador County, southeast of Jackson. That fire is now 30 percent contained and Columbia aircraft are assisting on that incident. We will provide more updates as they are available.
A special thanks to community news partners Bryon Mathews, Thomas Charles and DeWitt Sagastume for sending in photos. Pictures can be e-mailed to news@clarkebroadcasting.com
Click here for day two coverage of the fire.