Big Creek Fire 85% Contained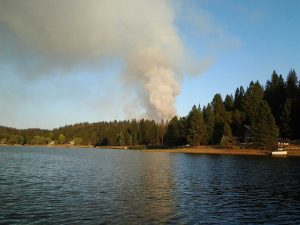 Big Creek Fire from Pine Mountain Lake

View Photos
Groveland, CA — Cal Fire reports resource downsizing on the Big Creek Fire, as the acreage remains at 204 acres and containment has increased to 85 percent.
Resources battling the blaze have dropped significantly, as progress has been made over this weekend prompting Cal Fire to estimates containment at 8 p.m. on Tuesday, August 4th.  The number of firefighters has decreased from 521 to 170, in turn; more equipment was released this morning from the fire. Currently, on scene are ten fire engines, one bulldozer, three water tenders and seven fire crews. (Click here for an earlier story to view resource numbers at the height of the blaze.)
Both fire suppression and mop up will be the main goals of the day, according to Cal fire. Those traveling in the burn area are asked to slow down and use caution especially around personnel and equipment.
As previously reported, 43-year-old Lisa Ann Vilmur of the Groveland area was arrested Thursday night for allegedly starting the blaze, caused by an escaped debris burn. She faces one count of recklessly causing a fire.
As first reported by Clarke Broadcasting, the flames broke out around 4:30 p.m. Wednesday, July 29th, off Highway 120 in the Groveland area, forcing voluntary evacuations of the Hell's Hollow area.
Here is the list of agencies assisting in the battling the blaze: US Forest Service, Tuolumne County Fire Department, Stanislaus Consolidated, Copperopolis Fire, Central Fire, San Andreas Fire, Georgetown, Diamond Springs, Santa Barbara County, Groveland Community Services District, Lathrop – Manteca, Los Angeles County, Orange County, California Office of Emergency Services, California Department of Corrections, Hetch Hetchy Water and Power, PG&E, California Highway Patrol, Tuolumne County.