Updated: Twain Harte Bank Robbers' Descriptions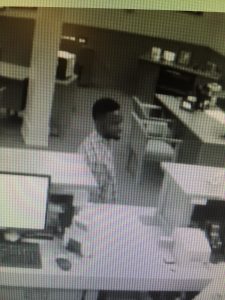 Umpqua Bank Robbery Suspect One

View Photos
Update: suspect arrested 8/6/15  details here. Second suspect arrested 8/25/15 details here.
Update 3:15 p.m.: The Tuolumne County Sheriff's Department has additionally released that the two suspects in this morning's Twain Harte Umpqua Bank robbery are believed to be in their late teens or early 20s.  For pictures of the suspects, who remain on at large, click in the left image box.  Read below for their full descriptions. Anyone with information is asked to contact  the Tuolumne County Sheriff's Office at 209-533-5815.
Updated at 1:05pm: Clarke Broadcasting has obtained surveillance photos of the two suspects that officials say robbed the Twain Harte Umpqua Bank this morning. Anyone with information on the two men should contact the Tuolumne County Sheriff's Office at 209-533-5815. You can see additional photos by clicking on the slideshow in the upper left hand story image box.
Updated at 12:45pm: The Tuolumne County Sheriff's Office has released a description of the men that got away on foot following a bank robbery this morning at Umpqua Bank. Sgt. Deborah Moss says the suspects are both black males. One of which was wearing a white, striped shirt. He also had a beanie style hat with a puff ball on top.  The second suspect was wearing long-sleeved, blue and white checkered shirt, and had a goatee.
They entered the bank, jumped over one of the counters, and tackled a bank employee to the floor. They then took an undisclosed amount of cash and left the scene. It's not immediately clear if the suspects have any type of weapons on them.
As you can see by clicking on the photo box in the upper left hand box, some money was found outside the bank, and it's believed that it was possibly dropped by the suspects. The Sheriff's Office is actively investigating the incident.
Twain Harte, CA — The Tuolumne County Sheriff's Office is investigating a robbery at the Umpqua Bank in Twain Harte.
Shortly before 11am, two males reportedly came in and got away with an undisclosed amount of money. According to Sheriff's Office spokesperson Sgt. Deborah Moss, a perimeter has been set up around the area and an active search is underway for the suspects.
The Sheriff's Office does not have a description of the males at this time, and it is unclear if they were armed. A helicopter is overhead assisting with the search of the suspects.
Our News Reporter Tori James has arrived live on the scene. We'll pass along more information on this breaking news when it becomes available.