Snow Pack Reading Garners Governor's Attention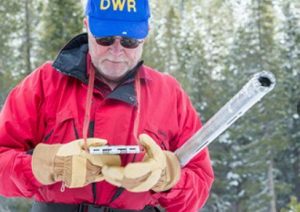 DWR Manual Snowpack Reading

View Photos
Phillips Station, CA  – In light of the recent dismal manual snow pack readings for this winter, Governor Jerry Brown will head to the mountains for a firsthand look.
Brown's office reports the Governor will attend the California Department of Water Resources manual snow survey Wednesday at Phillips Station, which is off Highway 50 near Sierra at Tahoe Road. Electronic readings show that the Sierra Nevada snowpack's water content is lower than any year on record, dating back to 1950. It is at just 8% of the historical average in late March.
As reported last month, the manual numbers were bleak with a worse outcome than even state water officials anticipated at just 13% of average for February. The electronic readings showed the overall levels at 19% of the historical average for the date. The northern Sierra snowpack was 16% of average, while the central and southern Sierra were 20% and 22% respectively. The snowpack is normally at its peak on April 1.
Additionally, as reported last Friday, Governor Brown signed the Emergency Drought Package, which was two bills that fast-tracked more than $1 billion in funding for drought relief and critical water infrastructure projects.