Hundreds Attend Calaveras School Board Meeting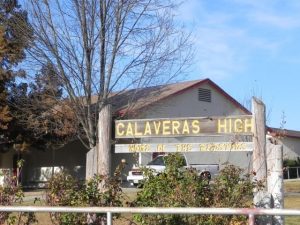 Calaveras High School

View Photos
San Andreas, CA — A Calaveras School Board Meeting was held last night with over 200 in attendance concerned about $1.8 million in proposed budget cuts. According to Calaveras Unified School District Superintendent Mark Campbell "It was easily the largest turnout that I have ever seen at a board meeting." He reported the crowd overflowed the Toyon Middle School in the Multi-purpose Room.
Calaveras Unified's Budget Reduction Proposal outlines a list of cuts including the elimination of sports and music at the middle school and high school level and consolidating Rail Road Flat, West Point and Mokelumne Hill elementary schools. Each school has under 100 students and according to the proposed plan several teaching positions and a principal can be eliminated. Superintendent Campbell says class sizes will be 30 students to one teacher.
The school board needs to accept a balanced 2015-2016 spending plan at its September 2nd meeting. If they do not have a plan approved and submitted to the county office by September 8th the State will step in and make necessary cuts.
Campbell says, "We don't want to cut anything but we don't have a choice. So my recommendation is that we approve the plans for cuts but then we start working together to find different ideas, different options, different solutions, to perhaps generate revenue or decrease expenditures to be able to take some of those items off the cut list."
Calaveras Unified School District was one of 41 schools in California on the "Qualified Certification" list in March, that were projected to fall short on funding within three years. No other districts in Tuolumne or Calaveras are on the list. The news story was "Calaveras Unified Makes State List"
At yesterday's meeting the board did approve a contract with Ryland School
Business Consulting to provide interim fiscal oversight. The previous Director of Fiscal Services resigned at the August 5th board meeting. Campbell says he will be posting the job position shortly.
The new performing arts center project is also on hold temporarily. Campbell noted "There are different perspectives on both sides about the Performing arts center project. We will be having a conversation about that soon, but it is on hold." Details about that project were released last week here.