Summerville Football Scheduled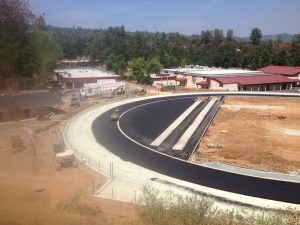 Summerville Stadium Construction

View Photos
Tuolumne, CA — Summerville High School construction continues, but with the Sonora High School Board of Trustees deciding to delay construction, Summerville has changed three of their football game locations. Summerville's schedule now includes three games to be played at Sonora High School. Superintendent Robert Griffith says nothing has changed with the project plan. When the construction schedule was set up it was known that the first few football home games would need to be held somewhere else. With the Sonora location available the team can save travel time over other options.
Specifically the Friday, September 12th Summerville game against Bradshaw Christian can be played at Sonora, and game against Hughson will be on Saturday, September 20th at Sonora. As reported in the July 10th "Football Season Update" The Friday, October 3rd Bret Harte game may or may not be the first game played in the new Summerville Stadium. Homecoming celebrations could be delayed to October 17th or Nov 7th.
Summerville's football schedule is set on an as needed basis, as soon as the stadium is complete they will host their own games. Construction is currently estimated to be one week ahead of schedule, read the August 9th story "Summerville Stadium Project Update".
The 2014 football schedules will continue to be updated and posted on our football page. The most recent Sonora football stadium update is here.