Video Showcases Local Drought Challenges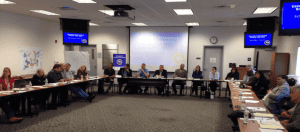 Governor's Drought Task Force Meeting In Sonora
Sonora, CA — The California Office of Emergency Services has put out a video recapping the Governor's Drought Task Force meeting held a week and a half ago in Sonora.
As reported previously, representatives were on hand from several counties, including Tuolumne, Calaveras, Inyo, Mono, El Dorado, San Joaquin, Amador and Alpine. Most of the meeting's focus was on getting through the current drought, but there was also discussion about long-term planning, and trying to ensure that the problems faced in 2014 do not resurface in future drought years.
The meeting was closed to the public, but CAL OES has produced a video recapping the day's events. It also showcases major concerns related to firefighting over the coming summer months, and contingency plans in place.
To view, click on the video box in the upper left hand corner.