Vaccine Sign Ups In The Mother Lode Region
To schedule a vaccine appointment in Tuolumne, Calaveras or Mariposa use California's My Turn website at https://myturn.ca.gov. Public Health notes people who don't have an email address or mobile phone should call the CA COVID-19 Hotline at 1-833-422-4255 (M-F 8AM-8PM, Sa-Su 8AM-5PM) for assistance.
Vaccines are available for those 5+ with the two-dose Pfizer shots, and 18+ with the Moderna shots and Janssen's Johnson & Johnson single shot.
Reach out to your child's primary care provider if you have specific questions about their health history.
In accordance with Public Health's COVID-19 screening protocol, if you have ever experienced a severe allergic reaction to anything (medication, vaccine, environmental), Public Health asks that you contact your healthcare provider about a vaccine or Adventist Health Sonora to get vaccinated at one of their clinics 209-536-5163.
Call Calaveras public health with questions at 209-754-6460.
Booster Shots
Consistent with prior recommendations for adults, CDC is recommending that moderately or severely immunocompromised 5–11-year-olds receive an additional primary dose of vaccine 28 days after their second shot. At this time, only the Pfizer-BioNTech COVID-19 vaccine is authorized and recommended for children aged 5-11 details are at cdc.gov/media/releases/2022/s0104-Pfizer-Booster.html 
On March 29, 2022, the U.S. Food and Drug Administration (FDA) and Centers for Disease Control and Prevention (CDC) released guidance for eligible individuals to receive a second COVID-19 booster dose. Based on expanded FDA emergency use authorizations, groups who may be at higher risk of severe outcomes from COVID-19 may receive an additional booster dose at least four months after their first booster dose:
People 12 years and older who are moderately or severely immunocompromised
People 50 years and older who are not moderately or severely immunocompromised
People 18-49 years old who are not moderately or severely immunocompromised and who received Janssen COVID-19 vaccine as both their primary series dose and booster dose
"COVID mRNA vaccines remain safe and highly effective in the prevention of severe infections and complications related to COVID-19. The CDC recommends that all eligible individuals stay up to date with their COVID-19 vaccinations," said Calaveras County Health Officer, Dr. René Ramirez.
"According to the CDC, those who received three doses of the COVID-19 vaccine during the most recent Omicron surge were 94% more likely to avoid mechanical ventilation or death compared with 71% who had only received the primary series dose(s)," Dr. René Ramirez added.
Calaveras Public Health will begin offering second boosters beginning April 1 through its mobile vaccination team. Appointments are required. Eligible individuals are encouraged to schedule a free COVID-19 vaccine appointment by visiting myturn.ca.gov.
A first booster shot for an mRNA vaccine (Pfizer or Moderna) is recommended you are eligible:
If you completed a Pfizer series at least 5 months ago
If you completed a Moderna series at least 6 months ago
If you got a J&J vaccine at least 2 months ago
Mariposa Public Health can answer more questions, call 209-259-1332, or email mariposacovid19@gmail
Tuolumne County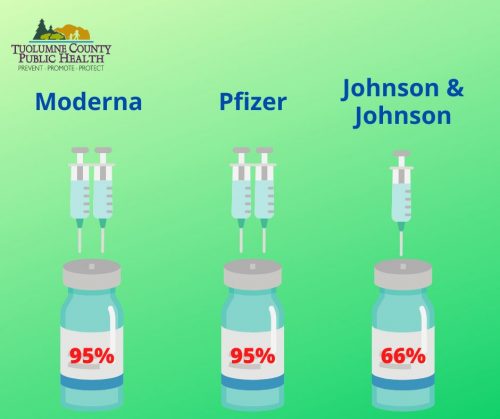 Adventist Health vaccination clinics can be found HERE
CVS vaccination availability and appointments can be found HERE
RiteAid vaccination availability and appointments can be found HERE
Safeway vaccination availability and appointments can be found HERE
Save Mart vaccination availability and appointments can be found HERE (enter zip code)
Groveland Pharmacy is available to provide COVID vaccinations. For an appointment, please call 209-962-5211.
Twain Harte Pharmacy is offering COVID vaccinations. Please call 586-3225 for info and appointments.
Sonora VA Clinic may be an option for some. For more information go to va.gov/health-care/covid-19-vaccine/
Walmart is offering COVID vaccinations. See details online here.