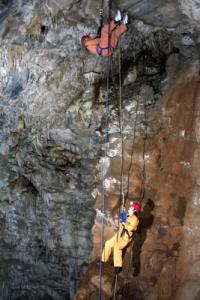 Travelers may not know that they are in the tiny town of Vallecito when they visit the amazing Moaning Caverns. It is California's largest public cave chamber, big enough to fit the entire statue of liberty! Guided tours take you down 234 steps in a spiral staircase built in 1922.
Or you can go on a wild cave Adventure Trip that rappels 165 feet down and then wanders the passageways for 3-hours.
The above ground 1500-foot twin zip lines offer an unforgettable experience and there is a climbing tower as well.
In the summer (mid-May to mid-September) the first tour leaves at 9 am, last tour leaves at 6 pm every day. Most of the visit is spent descending the spiral stairs be careful not to trip on one of the 234 steps! Enjoy the Adventure Tour Guide's 20 minute speech, take in the enormously tall space and then head back up the stairs at your own pace. In the winter, weekdays tours leave at 10 am, last tour leaves at 5pm. On weekends and holidays the first tour leaves at 9 am, last tour leaves at 5pm. Moaning Caverns Website