Fish Hatcheries

Moccasin Creek Hatchery was damaged in the flooding of March 2018 as detailed here. 3-8-19 Update: the hatchery is closed to the public for safety measures, they will reopen, however a date is unknown.
Moccasin Creek Hatchery is one of 21 trout hatcheries operated by the California Department of Fish and Wildlife. Visit from 7:30 AM to 3:30 PM weekdays to see trout being raised (bring quarters to feed the fish) and will stock the local waterways of the Sierra Nevada Mountains of Northern California. Once a year in April the hatchery hosts Trout Fest.
Hatching fingerling fish is managed in the hatchery building for three months. In 2011, 10 deep tanks replaced 20 troughs and in 2012, the redwood round tanks were replaced by 6 deep fiber-glass round tanks. When they are big enough the fingerlings move on to the 48 concrete ponds, each 100 feet long, for about a year until the fish are mature enough to be released into the wild. It takes about 14 months for a trout to grow into a half-pound fish big enough to keep.
The Moccasin Creek hatchery opened in 1954 and produces 300,000 to 500,000 pounds of rainbow trout, brown trout, Golden Trout and is designated as the statewide Cutthroat Trout restoration hatchery.
During the trout season (September) Moccasin Creek, which runs directly behind the hatchery, gets planted weekly. So if you like to fish bring your pole!
This Calaveras County hatchery is open and welcomes visitors from 7:00 AM to 3:30PM the Hatchery's parking lot located at the base of Camanche Dam in Clements. Visitors are welcome to take a self-guided tour of the hatchery during open hours. The hatchery raises Fall-run Chinook salmon and Steelhead Trout.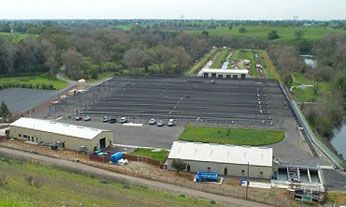 The Mokelumne River Hatchery was built in 1963 to offset the loss of fish spawning habitat due to the construction of Camanche Dam by East Bay Municipal Utility District (EBMUD). It was remodeled in July 2002.