Columbia State Historic Park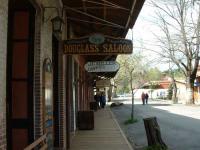 A Living Gold Rush Town that will transport you back in time. Step into Columbia State Historic Park at the NW corner of Washington and Broadway Streets and you will know what life was like in the 1850's. There is an old style saloon and the Quartz Mountain Stage Coach offers historic guided trail rides. Parrott's Blacksmith demonstrates horseshoeing, wagon wheel repair, pick and tool sharpening, for scheduled groups.It is so authentic that the area has been used for many movies over the decades. During Gold Rush Days, (2nd Saturday of each month) volunteers in period costumes staff a variety of venues, including the bowling alley, the Wells Fargo office, the old schoolhouse and replica dry goods stores. Kids can play in the blocked off street with wooden sticks and rings, learning some of the games played during the Gold Rush.Demonstrations of historic methods for rope making, weaving, and candle dipping are performed and the sale of various arts and crafts highlight many events in Columbia. Memorial Day through Labor Day is peak season when the weather is very nice, but occasionally rain or the cold (it rarely snows) limit activities the other months of the year.
Columbia hosts several holiday events rain or shine, keep an eye on the calendar section for more information or check the annual events page.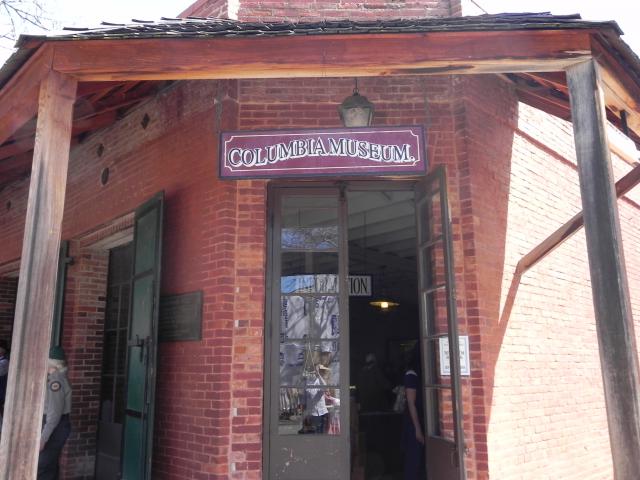 Columbia became a town of 4,000 to 5,000 in the 1850s, following the discovery of gold here by the Hildreth party March 27, 1850. Gold shipments from this small area were estimated to total $87 million at 1860's prices. At an elevation of 2,143 (perhaps a few feet lower than before gold miners dug into the ground) there are no natural lakes or rivers in the immediate area. The seasonal ponds and gullys and expensive city water slowed the progress of gold miners.
It took 7 years to bring cheaper water to the area. Because of the limited water supply, fire was a big threat. Twice, in 1854 and 1857, many of the town's buildings were destroyed. Columbia declined rapidly after the second fire in 1858. The population dipped to around 500 and the old buildings were abandoned but it never became a ghost town.
State Legislature finally recognized the opportunity to preserve a typical Gold Rush town as an example of one of the most colorful eras in American history, in 1945 and created Columbia State Historic Park. You will also find the brand new Columbia Elementary School modern restaurants and bistros, and one of two theatres run by the award-winning Sierra Repertory Theatre. The theatre shows are at the 120 year-old Fallon House. Visit the Live Theatre section in the entertainment section.
Columbia's Ice Skating is open in the winter season Wednesdays through Sundays with four daily skating sessions of 90 minutes each for $12.00 including skates. Wednesdays are half-price! For reservations and information go to www.columbiaiceskatingpark.com. All proceeds go to fund Columbia Chamber of Commerce's upcoming Winterfest and other events.

Try your hand at old fashioned bowling! True this is not a bowling alley in the classic sense but it is a memorable activity that kids absolutely love. A small wooden ball, pins that are set up by hand by whom ever is brave enough to stand at that end and a chalk board for keeping score. This is what bowling was like in the old west! Usually open during Columbia State Historic Park annual events.
If you want to stay in the Mother Lode take a look our list of places to stay.
Planning a wedding, conference or other event? Take a look our list of places to host your event.
Tell us about your experience at this place! Contact Us