Calaveras Sheriff's Office Shares Midyear Stats On Illegal Cannabis Busts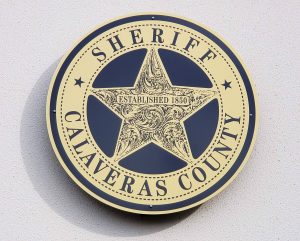 Calaveras County Sheriff Department building logo

View Photo
San Andreas, CA – Just over halfway through this year's illegal marijuana eradication efforts, Calaveras County officials say they have taken at least $36 million in black market pot out of play.
As far as 2019 stats go, Sheriff's spokesperson Sgt. Greg Stark shares, "So far, year to date, the Calaveras County Marijuana Enforcement Team has seized just over 37,000 plants at 31 sites, and a total of 1.200 pounds of processed [marijuana]." He adds the MET also took out four butane honey oil (BHO) labs, made 17 arrests, and seized 21 guns.
While in the past, Clarke Broadcasting has used $3,500 per plant and $2,500 per pound of processed marijuana as variables to provide rough street values, Stark says the market values have changed over time.
He says current figures are more like between $1,300 and $2,000 per plant and half-pound of pot when from an indoor grow; plants and pot per pound yielding from greenhouses can be valued between $1,000 and $1,500; plants and processed pot per pound from outdoor operations might be estimated between $700 to $1,000.
Applying those figures to what the MET has eradicated so far this year, Stark estimates that a conservative rough value estimate might be between $36 and $37.5 million.
An Ongoing Cycle, Public's Help Appreciated
Although the MET is ramping up operations ahead of the fall outdoor harvest season, Stark maintains that marijuana growing and busting activities in Calaveras County are constant activities. "From the indoor grows during the wintertime to the outdoor and indoor ones year-round, we are busy year-round."
In addition to a recent warrant search and arrest in the 5000 block of Michel Road in Mountain Ranch reported here, Stark shares that the MET served a search warrant for illegal marijuana cultivation at a residence in the 300 block of De Moss Lane.
At that site, the MET eradicated 1,074 marijuana plants from an outdoor grow. While the suspects were not at the location at the time of the warrant, evidence seized from the scene is still being examined and the investigation is ongoing.
"For weeks and/or months following a warrant, the investigation into each site continues. In some cases, charges are referred to the District Attorney later, pending the results of evidence testing, interviews, or follow up investigations," Stark explains.
As far as leads from the community, he comments, "We are receiving a significant amount of [Sheriff's Marijuana Tip Line] tips that help us tremendously when we investigate these issues." Currently, any outdoor growing is illegal in Calaveras County and there is a ban on commercial production.
Anyone with information on illegal marijuana cultivation sites or sites manufacturing concentrated cannabis is encouraged to call the anonymous tip line at 209 754-6870.