Eradicators Ramping Up Clamp Down Efforts On Marijuana Cultivators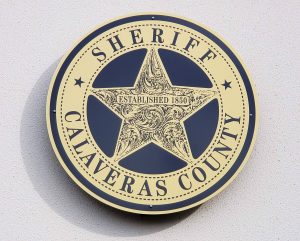 Calaveras County Sheriff Department building logo

View Photo
San Andreas, CA – Illegal grow bust season is apparently in full swing across Calaveras County.
According to sheriff's spokesperson Sgt. Greg Stark, the Marijuana Enforcement Team (MET), which is ramping up its operations as it generally does this time of year, three search warrants over the past two days for unlawful marijuana cultivation.
While he is still compiling data from the field reports to release on Friday, Stark readily shares details of the arrest made in conjunction with one of the Wednesday busts, which occurred at a residence in the 5000 block of Michel Road in Mountain Ranch.
"Investigators located outdoor growing operations, and deputies seized 120 marijuana plants and 9.6 pounds of processed [marijuana]. Nai Lin Saecho, a 56-year-old male out of Mountain Ranch, was arrested on scene and booked into Calaveras County Jail," Stark recounts. He adds Saechao was charged with illegal cultivation, maintaining a drug house, and possession of marijuana for sale. His bail was set at $30,000.
Based on rough values of $3,500 per plant and $2,500 per pound of marijuana, the haul carried an approximate street value of $443,000.