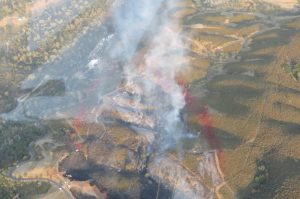 Whiskey Fire In Valley Springs

View Photos
Valley Springs, CA – Ground crews have reached 100-percent containment on the Whiskey Fire that broke out Thursday evening in Valley Springs.
As first reported here, the flames ignited in some brush at the Whiskey Creek Day Use Area of New Hogan Lake in Calaveras County. A large plume of smoke could be seen in the skies above that area. Initially, CAL Fire reported the forward rate of spread was stopped at 45 acres, but better mapping of the area from planes above dropped that number to 27 acres charred by the flames, as detailed here.
Crews fought the blaze overnight by creating hose control lines and by Friday morning had gain 80-percent containment, as detailed here. CAL Fire relays that crews will continue mopping up and checking for hotspots today (Saturday). When the fire first ignited, the CHP reported that gunfire may have sparked it, but CAL Fire reports that the cause of the blaze remains under investigation.