Historic Yosemite Names Restored After $12 Million Lawsuit Settlement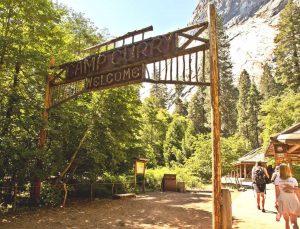 Curry Village sign uncovered after Half Dome Villega temporary banner removed July 15 2019

View Photo
Yosemite National Park, CA – Calling it a win for the American people, Yosemite officials are ecstatic over the return of the park's iconic landmark names.
Monday, Yosemite National Park officials shared that a three-and-a-half-year lawsuit over the historic trademarks has settled.
The plaintiffs were the park's longtime concessionaire, DNC Parks and Resorts at Yosemite, Inc./Delaware North, against the National Park Service (NPS) and Yosemite Hospitality, LLC/Aramark, which took over the contract in March 2016. Ahead of its suit, Delaware North claimed to the NPS in its failed renewal contract that it owned the historic names and argued that it should be paid $51 million for their use should another company take over the concession contract.
Clearly thrilled to pass on the news, Yosemite spokesperson Jamie Richards, notes that first thing Monday morning, staff removed the temporary plastic "Half Dome Village" banner cloaking the rustic Curry Village "Camp Curry" sign. Other names restored today include Yosemite accommodations The Ahwahnee and the Wawona Hotel and the Badger Pass ski and snowboard area.
Interesting, the only current name that will not completely revert to its former moniker is Yosemite Valley Lodge. As Richards explains, "People generally just call it 'The Lodge' and the current name is consistent with its location [in Yosemite Valley]."
Under the $12 million agreement, Delaware North will transfer to Aramark all the trademarks and service marks at issue. "The settlement concludes a lengthy lawsuit that could have continued for years, and it prevents further lawsuit related costs," Richards states. In it, the U. S Government agreed to pay $3,840,000 to Delaware North while Aramark agreed to pay its predecessor $8,160,000.
The settlement also involves Delaware North's transfer of various types of tangible assets that Aramark had not previously purchased to it and the National Park Service. Under Aramark's Yosemite concession contract with the National Park Service, the assets will transfer at no cost to the National Park Service upon the contract's expiration or termination.
Richards adds that neither Yosemite National Park nor the National Park Service is out any funding over the settlement as payment is coming from the taxpayer paid U.S. Department of Justice Settlement Fund. As the attorneys for the U.S. Government are staff already on payroll there were no specific lawyers' fees involved on behalf of the National Park Service.