Second Drug Bust For Mountain Ranch Property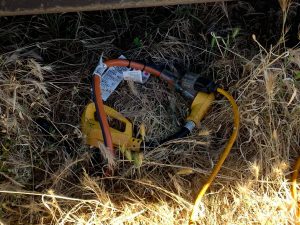 Electrical dangers at the illegal grow in Mountain Ranch

View Photos
Mountain Ranch, CA – After already being shut down earlier this year, another raid on an illegal grow at the same address nets even more marijuana and a disgusting discovery.
The first search by the Calaveras County Sheriff's Office Marijuana Enforcement Team took place in May on the 200 block of Old Prospector Trail in Mountain Ranch, as reported here. At that time, 381 pot plants were revealed growing in three greenhouses. Those plants and a rifle were confiscated but no arrests were made.
Keeping an eye on the land, the team on Tuesday (July 2) raided the property for a second time and turned up an even bigger illegal grow with those same greenhouses now sheltering 552 marijuana plants. Team members also discovered a gross health hazard on a section of the property that was used as a toilet with raw sewage just dumped on the ground. There were also multiple building code violations including unpermitted and dangerous electrical work. Once again, no suspects were found at the site.
Calaveras County Sheriff's Officials relay that this is an active investigation.  They ask that anyone with information on this case or that may be suspicious of another potential illegal marijuana grow contact the Sheriff's Marijuana Tip Line at (209) 754-6870.