Busted: Three Calaveras Marijuana Grows Estimated At $9.5 Million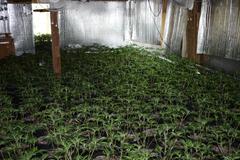 Calaveras County Sheriff's Office Evidence Photo - Trio of Grow Busts May-10 2019

View Photos
San Andreas, CA — Three recently busted illegal marijuana grows resulted in felony arrests, confiscated firearms, and the discovery of a sizeable residential indoor operation.
Members of the Marijuana Enforcement Team (MET) arrived Tuesday with a search warrant for illegal marijuana cultivation at a Mountain Ranch residence in the 7000 block of Rim Rock Road. There, they discovered illicit grows inside the main residence as well as within a barn and shed.
Deputies seized 2,219 marijuana plants and arrested two Mountain Ranch residents: 55-year-old Da Rong Zheng, and 43-year-old Yong Kuai Zheng. Both were booked into Calaveras County Jail on felony charges of illegal marijuana cultivation, maintaining a drug house, and criminal conspiracy with bails set at $30,000. Additionally, responding county code enforcement officials designated all structures as unsafe due to hazardous electrical work and mold.
Wednesday in Mountain Ranch, a suspect fled as MET was serving a warrant at a residence in the 200 block of Old Prospector Trail. A subsequent search located marijuana growing in three greenhouses that were each about 25 feet by 80 feet in size. Deputies seized 381 marijuana plants and a rifle while there.
Third Search In As Many Days Nets Another Arrest
Following a warrant search Thursday at a Railroad Flat residence in the 2000 block of Railroad Flat Road, the MET found marijuana grows in two greenhouses that were each about 15 feet by 25 feet and seized 130 marijuana plants, 546 grams of processed marijuana and a rifle. Deputies also arrested 31-year-old Thomas Burck of South Lake Tahoe. He now faces felony charges of illegal marijuana cultivation, maintaining a drug house, and possession of marijuana for sale. He also received a $30,000 bail.
Based on the a street value of $3,500 per plant and $2,500 per processed pound of marijuana, the total MET haul would come out to be about $9.5 million.
Sheriff's officials note that the MET serves numerous search warrants each month and uses the collected evidence to further each case and overall investigation.  "The mere fact that no persons may not have been contacted or arrested at some of the locations does not imply that the case is complete," states sheriff's spokesperson Sgt. Greg Stark. He adds, "For weeks and/or months following a warrant, the investigation into each site continues and in some cases, charges are referred to the District Attorney at a later date pending the results of evidence testing, interviews, or follow up investigations."
Anyone with information on illegal marijuana cultivation sites or sites manufacturing concentrated cannabis is encouraged to call the Sheriff's Marijuana Tip Line at 209 754-6870.