HWY 4 Traffic Delays Due To Pipeline Replacement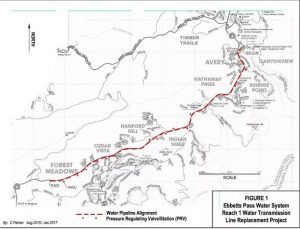 Reach 1 Pipeline Replacement Project map

View Photo
San Andreas, CA – Travelers commuting along Highway 4 in Calalveras County will face delays beginning next week with a pipeline project lasting through next year.
The delays come Monday, July 8th with the start of construction on Calaveras County Water District's (CCWD) Reach 1 Pipeline Replacement Project. One lane of the highway will be closed along the pipeline that runs between Avery and Forest Meadows. That will create one-way traffic control and force up to 15 minute delays.
As reported here last month, $6.7 million was awarded to Oakdale-based Mozingo Construction for the project, which involves replacing an 8-inch pipeline and installing 4.4 miles of new 12-inch pipeline along with a quarter mile of new 8-inch line.
CCWD officials detail that the project will continue through this fall and stop during the winter. It will pick up again in the spring of 2020 and is anticipated to wrap up in the fall. Updated information on construction areas and the project can be found by clicking here.