Sonora High Trustees To Vote On New Dome Committee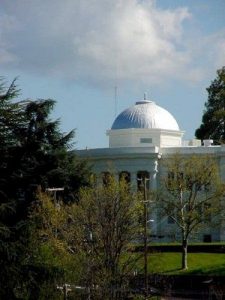 Sonora, CA

View Photo
Sonora, CA – At a familiar crossroads with regard to selling its historic Dome property, a high school district is seeking to venture onto a path it has not yet tried.
At their regular meeting next Tuesday night, the Sonora Union High School District trustees will decide on whether to name a new 7-11 advisory committee to explore the possibility of declaring the Dome – and a portion of the district's alternative education site – as surplus property.
As reported here on June 19, District Superintendent Dr. Mark Miller discussed how past efforts to declare just the property parcel containing the Dome, some outbuildings and a limited parking area surplus did not generate any serious buyers. The trustees subsequently established an ad hoc group led by board members Nancy Scott and Jeanie Smith to, ahead of their next meeting, look at assembling a larger committee and gather names of potential community participants for it.
Among the listed closed session items are Dr. Miller's performance review and a conference with legal counsel over a litigative matter involving the Wildcat Ranch.
The district, which on May 14 decided to rescind the sale of the property to the Park Foundation, also voted at the last trustees' meeting to accept a settlement agreement with the Farm Bureau, which earlier sued to block the sale. The terms included paying the bureau's attorney fees.
After reaching out to Park Foundation founder Ron Jacobs for word of any update from the nonprofit's standpoint, Clarke Broadcasting learned he had currently nothing to report.
While Tuesday's meeting begins at 6 p.m. in the first-floor conference room (100 School Street), the trustees will convene at 1 p.m. at the same location for a special session to conduct a board self-evaluation workshop with a facilitator.