Local Veterans Leader Carpenter Passes Away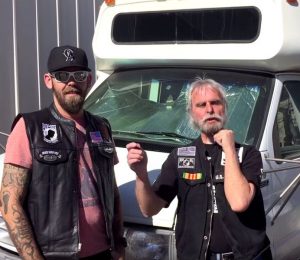 Jason Penrose (Left) and Russell Carpenter (Right) of Sonora Vets Helping Vets

View Photo
Sonora, CA — The founder of the local organization Sonora Vets Helping Vets is being remembered for his impact in the community.
Russell Carpenter, 67, passed away yesterday following a courageous battle with cancer.
The CEO of the local organization, Aaron Rasmussen, announced the somber news to the Tuolumne County Board of Supervisors this morning. Remembering Carpenter's legacy, he stated, "He was a Vietnam Veteran that had a hard life. And in the early 2000's one of our local veterans, Frank Smart, put on a homeless veterans outreach event. And through that he pulled himself out of homelessness, he got his life back on track, he got married, got his VA benefits, and in 2013 he felt compelled to give back to the veterans by creating Sonora Vets Helping Vets."
We reported about the founding of organization a few years ago, and the opening of its gym, family room space, computer work stations, and musical equipment. The group also operates a thrift store to help cover expenses. They are located at 14356 Cuesta Court.
Through Carpenter's outreach he has helped the lives of many local people.
Funeral services for Carpenter are pending.