HWY 120 Tioga Pass To Reopen Without Restrictions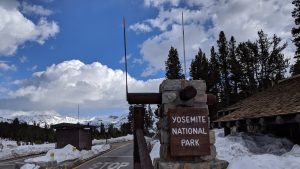 Yosemite National Park

View Photo
Yosemite, CA — Beginning Monday at 8 a.m., current restricted travel on Highway 120 Tioga Pass in Yosemite National Park will be lifted.
As crews work to remove snow and debris from the winter storms that left the area buried, the roadway was closed to limited traffic. Park spokesperson Scott Gediman explains that in the past the roadway would be opened before services like restrooms were available and that created problems as people would relieving themselves in Tuolumne Meadows. This year the park tried something new, only opening the roadway from 10 a.m. to 11 a.m. and 3 p.m. to 4 p.m. each day and allowing for more time to get certain services reopened, as earlier reported here.
"So Monday, we'll not only have the road fully opened, but we'll have visitor information available, restrooms will be open. We feel that we will be able to both provide the services, a good experience to visitors and also protect the resources," shares Gediman.
Over the weekend, however, the traffic restrictions will remain in place and crews will sweep the road after each of those closure periods to make sure visitors are not stopping along the road or parking overnight and only driving straight through the corridor. Additionally, bicycles will be allowed during daylight hours throughout the weekend.
Regarding when other services will reopen Gediman details, "We'll get the campgrounds open, lodging, store and the Tuolumne Meadow's Grill opened incrementally over the next couple of weeks."
Gediman praises the public for following the rules and calls the new plan a success, complimenting, "Visitors were wonderful. We're incredible grateful to the visitors who understood what we were doing and were very patient. We're just ecstatic to get the high country open."