Lawmakers Sign Off On State Budget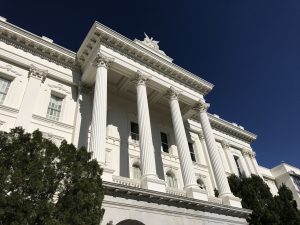 California State Capitol Building

View Photo
Sacramento, CA — California's legislative leaders have ushered 2019-20 budget negotiations to a close.
On Thursday, Governor Gavin Newsom, Senate President pro Tempore Toni Atkins and Assembly Speaker Anthony Rendon issued a joint announcement, indicating that the Governor's Office, Senate and Assembly reached final agreement on the 2019-20 state budget and its accompanying legislation.
Among the achievements they noted is that the $213 billion budget builds record rainy day reserves while providing more than any budget in the state's history to help families tackle affordability challenges and confront the cost crisis.
The budget, as passed by the Legislature, puts more than a billion dollars in the pockets of working people and small businesses; makes the state a national leader in the fight to expand access to health care and to help families, including middle-income families, afford care coverage.
It also plans a path towards providing universal preschool access, expands child care for working parents, and includes a package of housing measures with strong incentives to help spur housing production and fund the fight against homelessness.
As reported here, Newsom's May budget revision upped his January proposal by $4.5 billion, maintaining $21.5 billion in rainy day reserves, while boosting spending in several areas from K-12 and college education to wildfire and disaster prevention, response and recovery.