Tuolumne County Youth Summer Track Meet Postponed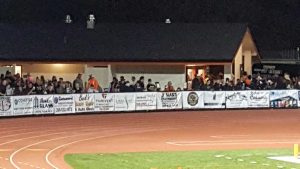 Summerville Track

View Photo
Tuolumne, CA —  Due to a delay in hiring staff for its summer recreation program, Tuolumne County's popular youth track meet has been postponed.
It was originally scheduled to take place this evening at Summerville High School. We reported earlier that the summer recreation program was originally scheduled to begin late this month, however, due to a lack of funding, its start has been delayed until next week. Donors with the Sonora Area Foundation provided the additional revenue so that it could take place this summer. The staff members for the program are still being hired this week, and they will be the ones staffing the track meet.
The event annually attracts over 100 participants between the ages of 1-14 and the kids take part in running, throwing and jumping.
"The Recreation Department looks forward to holding this annual event," says Eric Aitken Recreation Manager.  "It promotes health and brings together the community."
While no official makeup date has been set, the recreation department reports that it will occur sometime in late July.