Recovery Underway At Tulloch For Submerged Plane, Pilot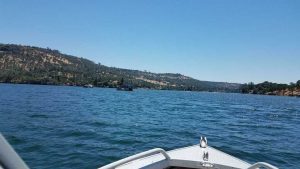 Recovery operations for downed plane in Lake Tulloch June 18 2019

View Photos
Copperopolis, CA – Efforts are underway to retrieve an airplane that on Father's Day plunged more than a hundred feet into the depths of Lake Tulloch.
According to Calaveras County Sheriff Rick DiBasilio, specialized units and teams began operations around 10 a.m. Tuesday to extract the small yellow plane and still-unidentified pilot. He describes the process, which is utilizing a salvage recovery boat, as a necessarily slow and methodical one for safety's sake.
By the 3 p.m. hour, the sheriff noted that recovery operation would not wind up for a few hours still, as the salvage crew continues working to draw the aircraft up far enough to extract the pilot.
It was just before noon on Sunday when the plane rapidly submerged into the middle of the lake after suddenly hitting power lines. As reported here, the plane was located about 110 feet beneath the surface around noontime on Monday, using side-sonar and a submersible, remotely operated underwater vehicle (ROV).
The plane reportedly left out of Stanislaus County and was en route to Tuolumne County. The release of the pilot's name is pending a positive ID and next of kin notification.