Update: Search Continues For Plane And Pilot At Lake Tulloch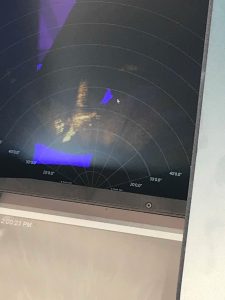 Image of missing plane 110 feet under water at Lake Tulloch June 17 2019

View Photos
Update at 3:57pm: Calaveras County Sheriff Rick DiBasilio shares the latest regarding Sunday's plane crash at Lake Tulloch.
According to the sheriff, search units located the submerged plane and current plans are to recover it, probably early Tuesday afternoon.
The plane is described as a single-engine yellow aircraft. The Calaveras County Sheriff's Office, Department Fish and Wildlife, CAL Fire, Copperopolis Fire, and Tuolumne County Sheriff's Office responded to the scene Sunday, and continued to search throughout the night.
Monday's efforts included Calaveras County Sheriff's Office, Tuolumne County, Department of Fish and Wildlife, and Amador County with additional resources consisting of sonar and a submersible remotely operated underwater vehicle (ROV). Around noontime, the aircraft was located about 110 feet below the surface of the lake through the use of sonar equipment. The spotting was confirmed by ROV. According to the sheriff, additional resources have been requested to recover the aircraft and contents due to the water depth.
The plane reportedly left out of Stanislaus County and was enroute to Tuolumne County. The pilot's name will not be released until his next of kin is notified. Search efforts are continuing.
Original Post at 9:58am: Copperopolis, CA — Additional resources are helping today in the search and rescue efforts following a reported plane crash Sunday at Lake Tulloch.
Calaveras County Sheriff's Office Spokesperson, Lt. Anthony Eberhardt, says, "A dive team, plus our marine safety unit, are performing searches and trying to locate the wreckage of the plane."
Yesterday afternoon officials also used an underwater robotic device in hopes of locating the plane at the bottom of the lake.
Shortly before noon yesterday, numerous witnesses watched it hit nearby power lines in the Poker Flat area, and then dive head first into the water, quickly becoming submerged.
Lt. Eberhardt says the plane was single engine, and yellow in color, but no details regarding the model have been released.
Numerous agencies have been assisting the Calaveras County Sheriff's Office, including the Tuolumne County Sheriff's Office, Stanislaus Consolidated Fire Department and CAL Fire.
The name of the pilot they are searching for has also not been released by officials.
Click here to view an earlier story from yesterday.