Update: Vegetation Fires Reported Off Mono Way, Hwy 108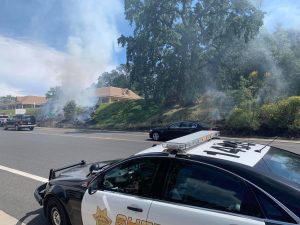 Fire near Mono Way June 17 2019 TCSO Photo

View Photo
Update at 3:30pm: CAL Fire officials are still working to determine if several vegetation fires that sparked just before 3 p.m. are related.
According to Tuolumne Calaveras CAL Fire Unit spokesperson Emily Kilgore in the December 2019 end of year report here "The June 17 Mono Way fires behind Walmart, contained at .46 and.3 acres behind Walmart, were vehicle-caused."
According to CAL Fire spokesperson Emily Kilgore, the largest blaze, described as being about an acre in size, ignited behind the Walmart off Highway 108 and Old Wards Ferry Road.
She adds that several other spot fires were also extinguished off Mono Way near Hess Avenue.
Original Post at 3:25pm: Sonora, CA — If you heard planes overhead, Columbia air resources are among those called to multiple reports of vegetation fires in Sonora.
CAL Fire spokesperson Emily Kilgore, confirmed multiple calls of small vegetation fires in a concentrated area just before 3 p.m. and described the incidents as possibly being related. The fires were described as being off HIghway 108 between Hess Avenue and Old Wards Ferry Road. One dispatch call indicated an area behind the Sonora Walmart and another off Mono Way at Hess Avenue.
Tuolumne County Sheriff's officials captured an image of a fire off Mono Way near Hillsdale Drive, depicted in the image box, further indicating that the fire was under control and for motorists to be cautious. We will provide more details as they come into the news center.