Update: Plane Crashes Into Lake Tulloch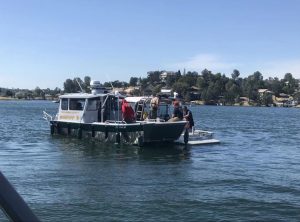 Search for plane at Lake Tulloch

View Photos
Click here to view an updated story.
Update at 6pm: There remains much activity at Lake Tulloch this evening following a plane crash that reportedly occurred shortly before noon. Officials are using a remotely operated underwater vehicle in hopes of finding the plane that went down near Poker Flat. To this point, there has been no confirmation that it has been located. More information about the crash can be found below.
Update at 3:20pm: The investigation continues into the plane crash that occurred at Lake Tulloch shortly before noon. Around 775 PG&E customers are still without power in the Poker Flat region. The company reports that it hopes to have everyone restored by 7pm. The Tuolumne County Sheriff's Office reports that eye witnesses have told officials that the plane hit power lines, and then entered the water, nose first, and quickly became submerged. It was earlier reported that the pilot was believed to be the sole occupant on board. Search and rescue efforts are ongoing. We'll pass along more information as it becomes available.
Update at 2:10pm: Very limited new information is available about the plane crash at Lake Tulloch. The Calaveras County Sheriff's Office reports that its marine units are on scene, along with resources from the Tuolumne County Sheriff's Office and CAL Fire. The Calaveras County Sheriff's Office is requesting that residents in the Poker Flat lake front houses stay out of the area this afternoon due to search and rescue efforts and the ongoing investigation.
Update at 12:50pm: The Tuolumne County Sheriff's Office is also assisting with emergency response to the plane crash in Lake Tulloch. Spokesperson, Sgt. Andrea Benson, says, "It was reported the pilot was the sole occupant aboard the aircraft.There is no information available at this time as to what may have caused the crash.  Please avoid the area so that emergency crews can make access quickly. Power is out in the area."
The crash occurred near Poker Flat. Additional details are posted below.
Original story posted at 12:25pm: Copperopolis, CA — CAL Fire confirms that multiple agencies are at Lake Tulloch this afternoon as an aircraft has gone into the water.
It happened shortly before the noon hour. In addition to CAL Fire, the Stanislaus Consolidated Fire Department, Copperopolis Fire and the Calaveras County Sheriff's Office have responded. CAL Fire spokesperson Emily Kilgore says it was reportedly a "smaller aircraft." It is unclear if there are related injuries.
The crash occurred near Poker Flat, and there are some downed powerlines in that area. You will want to avoid that region. We will pass along more details as they become available.