Calaveras Supes Set To Review Proposed 2019-20 Budget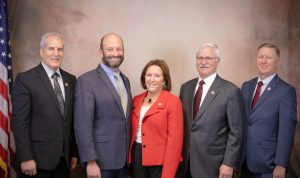 Calaveras County Board of Supervisors 2019

View Photo
San Andreas, CA — While it may be listed at the bottom of a packed agenda, the biggest item for the Calaveras supervisors' consideration this week is the fiscal year 2019-20 recommended budget.
During the budget hearing, the board will be receiving presentations from new CAO Albert Alt and various department heads so it can provide Alt with direction for any requested changes. As reported here, Alt was hired back in April to replace interim CAO Manuel Lopez, covering the position in the wake of former CAO Tim Lutz, who departed at the end of last year. Alt noted in his recommended budget preface that he leaned heavily on staff, particularly Deputy CAO CHrista Von Latta, Auditor-Controller Rebecca Callen, and IT Business Administrator Barbara Bittick, thanking them for their efforts.
Among other regular agenda business, The board will also consider passing a resolution adopting a Cal-Waste rate increase of 4.14 percent for the 2019-20 contract year.
Tuesday's meeting in the supervisors chambers in San Andreas (891 Mountain Ranch Road) will open to the public following an 8 a.m. closed session conference covering labor negotiations.