Road Work Planned For The Second Week Of June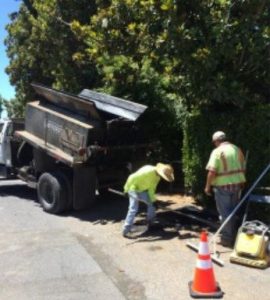 TUD paving cone zone

View Photo
Sonora, CA – Caltrans road work will impact travelers on Mother Lode Highways this week.
On Highway 108 road striping from Soulsbyville Road up to the Sonora Pass will delay traffic about 10-minutes. Crews will work their way up the hill beginning Monday at 8:30 AM through 4 PM and each day through Thursday. From Eagle Meadow Road five miles up to the Clarks Fork Road expect shoulder work on the left side from 8 AM to 3 PM Monday through Friday. From Clarks Fork Road to Kennedy Meadows Road planned tree work will keep the shoulder closed through the summer.
At Highway 108 and 120 crews are working on the shoulder. The area is also where the Yosemite Junction stoplight is being set up as reported here. Night crews will also be working on drainage issues in the area from O'Byrnes Ferry Road to the Yosemite Junction. Work began Sunday at 9 PM and wrapped up Monday at 6 AM and will continue each night through Friday.
In Groveland on HWY 120 from Ferretti Road to Hopper Street, by the Mary Laveroni Community Park, long-term right shoulder work will continue. Crews are scheduled to work around the clock until July 19.  Just outside of Yosemite park for one mile before Hardin Flat Road crews will be paving. The work is scheduled Friday from 6 AM to 3 PM.
On Highway 49 at Gatewood Street to Poole Station Road one-way traffic control will allow crews to pave that one mile stretch. The work is scheduled from 7:15 AM to 5:30 PM Wednesday and Thursday.
On Highway 4 Caltrans crews will be pouring concrete from Upper Moran Road to the Big Trees Park Entrance. The work began Monday at 6 AM and will wrap up at 6 PM and will continue through Friday. Traffic will be limited to one lane and cause delays of 10 minutes.
The two miles between Tanner Lane and Upper Utica Powerhouse Road on HWY 4 will also limit traffic to one-lane for drainage cleaning and inspections. The work is scheduled 8 AM to 3:30 PM Monday through Thursday.
For 43 miles on HWY 4 from Old Highway Connector to the Calaveras/Alpine County Line a moving closure for road striping may cause 10-minute delays. The workers are scheduled Monday through Friday from 6 AM to 6 PM.
Monday through Friday in Calaveras County, travelers can expect 10-minute delays on Highway 26 from HWY 49 in Mokelumne Hill to the Calaveras/Amador County Lane. The moving closure is for road striping Monday through Friday from 6AM to 6 PM.
Caltrans asks motorists to obey signage and flaggers while slowing down around crews and equipment in the cone zones.