Second Weekend In June Events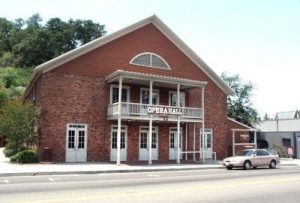 Sonora Opera Hall

View Photo
There are many Saturday events planned for the Second Week in June in our events calendar.
Saturday, June 8th, in the morning is Copperopolis' Annual Homecoming Pancake Breakfast Fundraiser to preserve their historic buildings. Details are here.
Up in Twain Harte from 8 AM to 3 PM is the Chamber of Commerce is hosting a Community Yard Sale. Details are here.
The Murphys Makers Market is open Saturdays from 8 AM to 2 PM at Feeney Park.
The Oakdale Equine Rescue off of Old Phoenix Lake Road is hosting a Yard Sale Fundraiser details are in the events calendar here.
Skyline Place Senior Living is also hosting their Annual Yard Sale beginning at 9:30 AM.
This Saturday is the Farms of Tuolumne County Farm and Ranch Tour.
At the Sonora Opera Hall there will be a celebration of the Art of Jack Cassinetto. From 4 PM till 7 PM a total of 30 of the late painter's art works will be on display. Many of the paintings will be available for sale and two original works will be sold by silent auction. All proceeds will go to a newly created art scholarship fund at Sonora Area Foundation. Details are available here.
The Sonora United Methodist Church is hosting a Basement and Garage Sale Saturday, June 8, from 8 am to 2 pm at Sonora United Methodist Church. Furniture, tools, household goods, yarn, material and a 1930's Kenmore sewing machine in a cabinet will be offered for sale. Proceeds will be used to support Interfaith, WATCH, Community Dinners and other groups funded by the Men's and Women's groups of the church. Details are here.
At the Mother Lode Fairgrounds a Barbecue Fundraiser will be held to benefit Veterans in that struggle with PTSD, addiction and Homelessness. As detailed in Wednesday's KVML Newsmaker of the Day the barbecue fundraiser will be hosted by HomeBase Treatment, Inc., a non-profit organization.